15,207 projects from more than 40 countries and 600 cities. Training courses, workshops, talks and investment rounds are some of the activities carried out since 2013.
In 2022, Premios Latinoamérica Verde is renamed Premios Verdes and introduces a new venue: Miami. This means a big step and greater exposure for the 500 best sustainable projects in the region. New coverage, new projects, but the same excitement.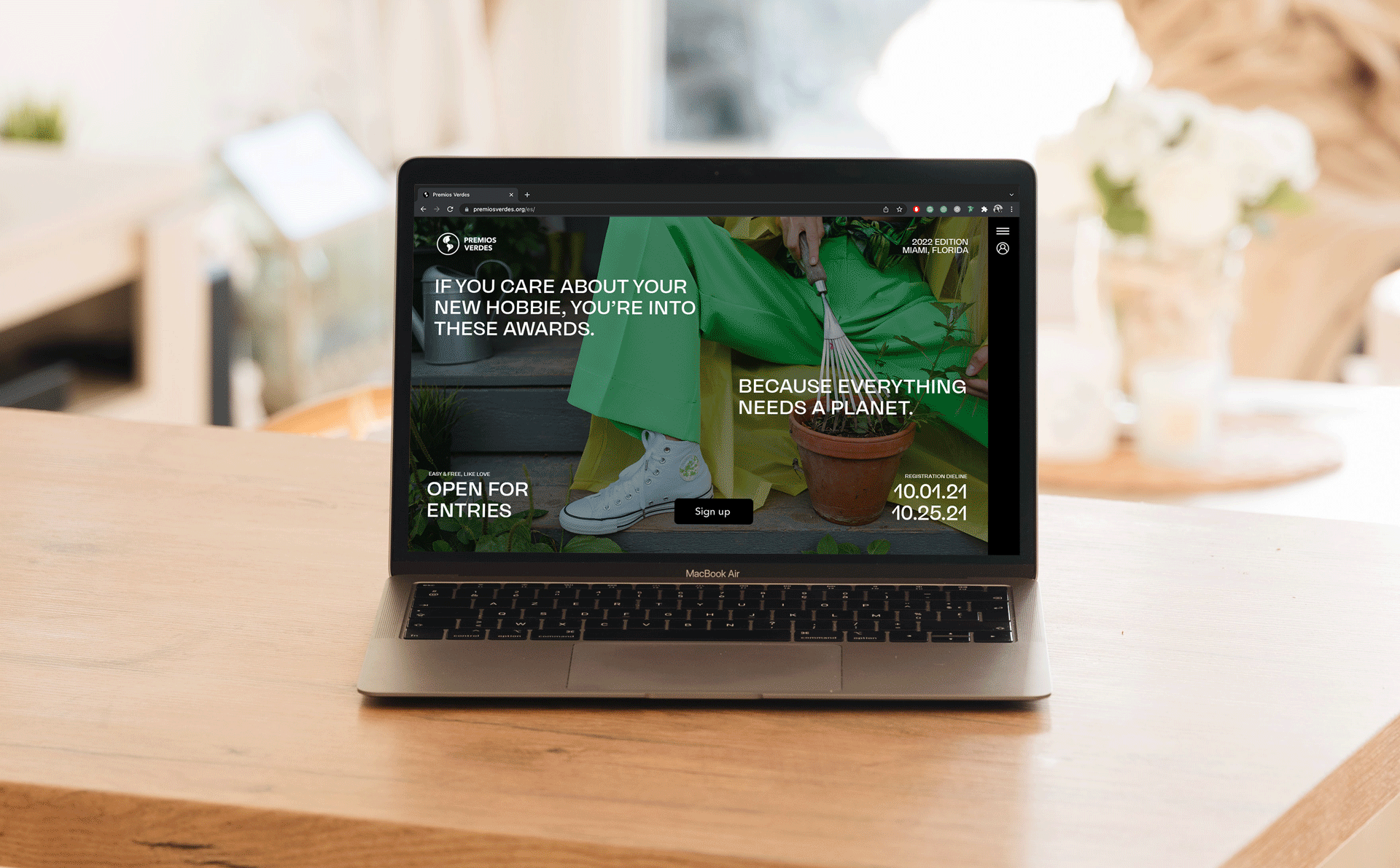 Our challenge was to communicate at the height of the event, which is constantly growing, even in its audience.
Unlike previous years, in addition to attracting people who are already in the world of sustainability, we had to make a massive impact and generate interest in the general public.
Because socio-environmental issues affect us all equally.
The most activist, the passive.
To the most powerful, to those who have fewer resources.
Those who know us and those who do not.
This inspired the creative concept of the campaign:
"If you care about anything, you're into these awards."
To generate the wide range of communication pieces demanded by the festival, we decided to use a typographic grid that would give us the freedom to play with different background graphic resources: photographs, illustrations, collage, 3D modeling, etc.
This grid allows all the pieces to be perceived as part of the same system, without sacrificing the differentiated identity demanded by the three stages of the event. In addition, this system is flexible: it can be adapted to different formats and applications, from merchandising products and public roads, to stories in networks and email signatures.
For the first time, the campaign was bilingual in both TV and Social Media, and its internalization made Premios Verdes news in specialized and mass media throughout the region.
We continued redesigning and improving the Premios Verdes website to make the user experience more intuitive and simple. We adapted the aesthetics and central graphics to the 2022 identity.
This campaign helped us to connect with groups beyond those who are more "natural" to us and this is exactly what we are looking for: Broaden the change in habits. It is the only way to achieve a sustainable humanity.