El País is the most widely read and internationally recognized paid newspaper in Spain. It offers coverage of the main European and international issues and also provides its readers with other products of interest, such as the organization of events that address the most relevant issues of the moment.
Launched for the first time in the summer of 2022, "Ecosistema Ahora" is the first event organized by El País whose theme focuses on the search for solutions to the climate crisis. Through an honest dialogue between different actors in international society, the three-day forum brought together scientists, corporations, triple impact companies, public institutions, activists and citizens. Its germ is giving rise to a transformative movement.
As a sustainability consultancy and design studio, our role was to achieve the highest social and environmental standards for both the conference organization and visual system, reducing the overall impact of the event –implementing a zero waste policy, reducing scope 3 emissions, bringing diversity to its agenda, etc– as well as building a branding that, with very limited resources, stands out among the many events in the city.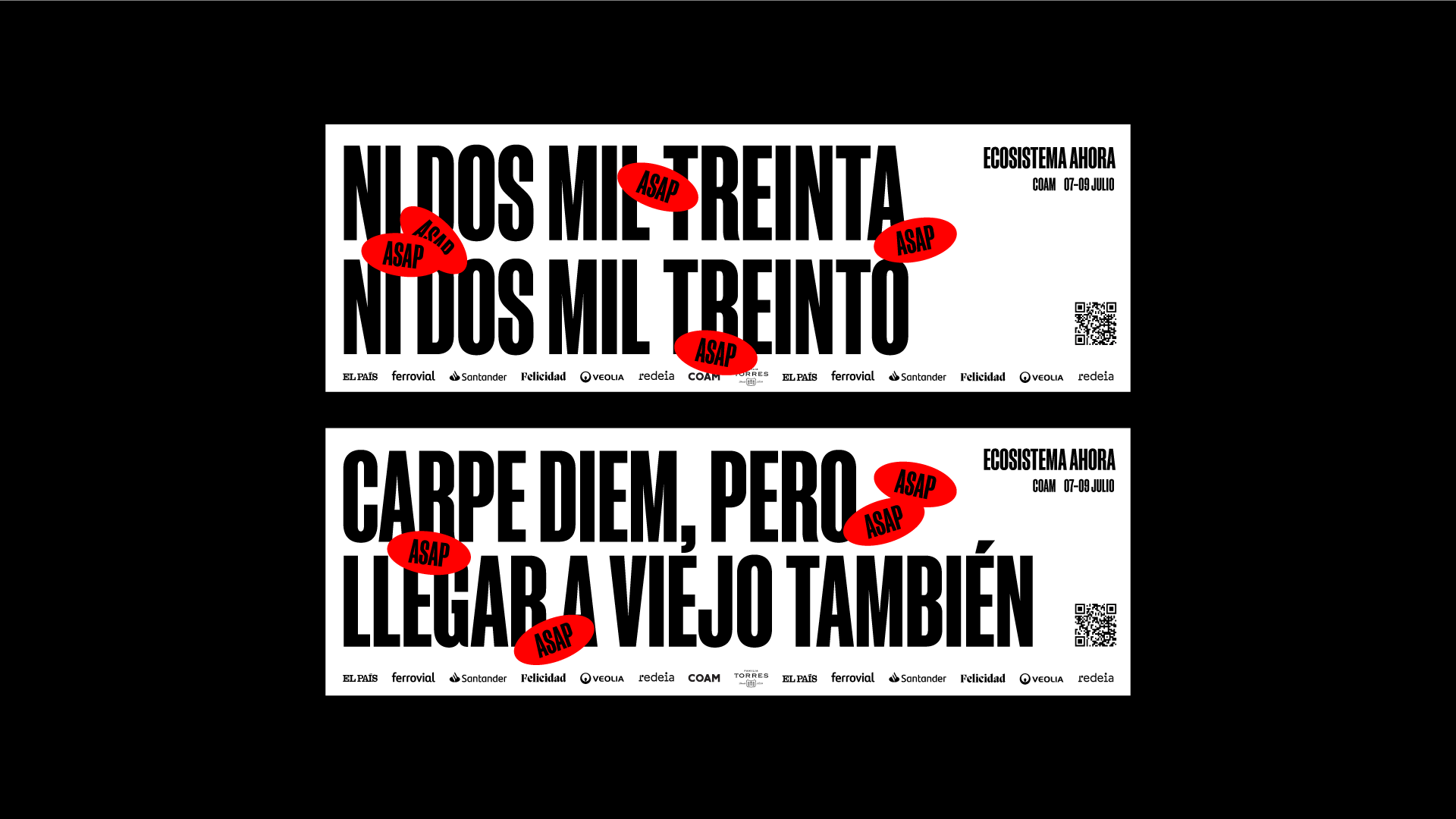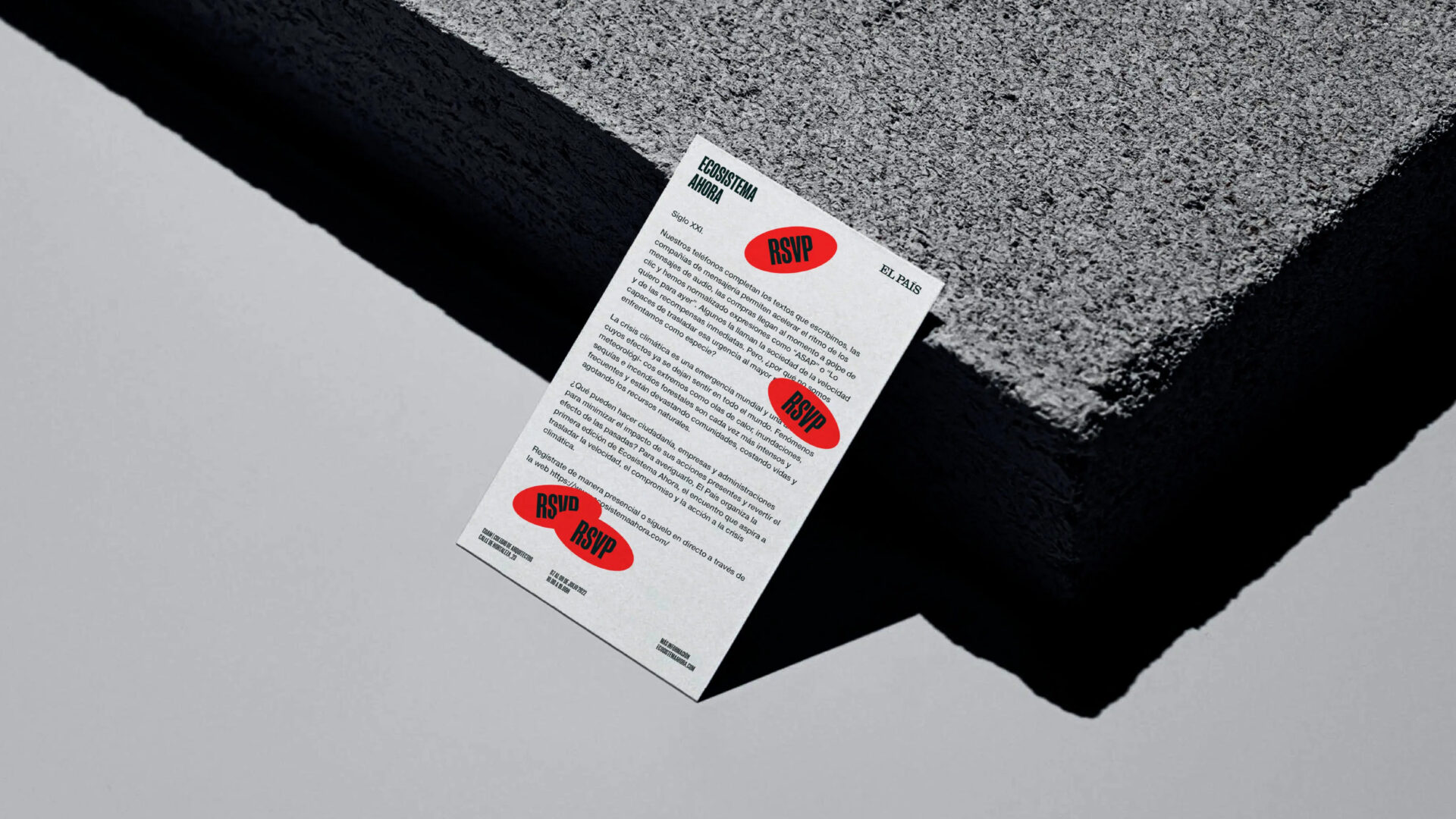 We live in a society of haste and immediate rewards. Our phones complete the texts we write, messaging companies allow us to speed up the pace of audio messages, purchases arrive instantly at the click of a button and we have normalized expressions such as "ASAP" "FOMO" or "I want it yesterday". Vertigo? No doubt about it. But, the point is: why are we unable to transfer this urgency to the greatest challenge we face as a species?​
Creative headlines and abbreviations used in environments where speed is the key to success build the basis of the visual identity, designed with Manuka (Flim Type Foundry, 2014). This way, Ecosistema Ahora moves away from the visual codes of the sector and it stands out in the city's crowded events landscape.
ASAP / FOMO / RSVP /
ASAP / FOMO / RSVP /
ASAP / FOMO / RSVP /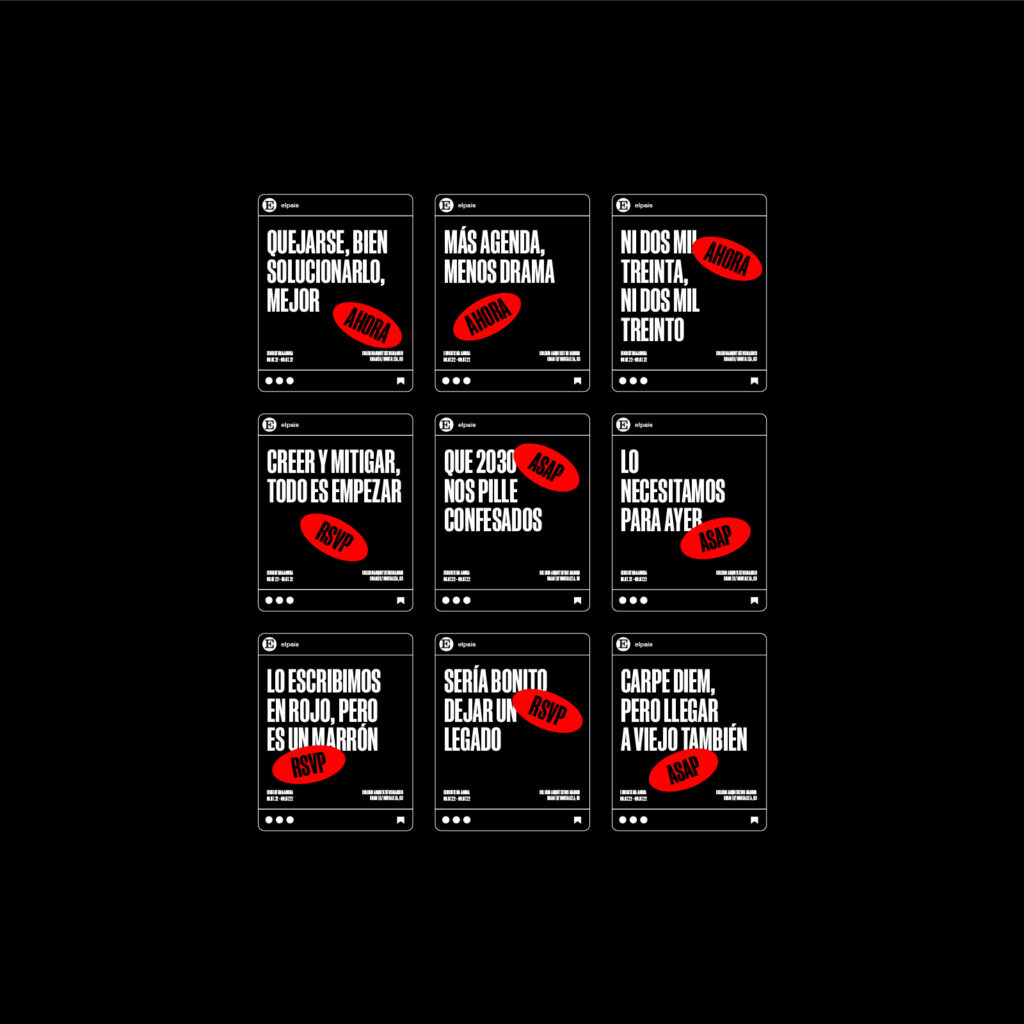 Red has a double meaning: as the times we live in, it may signal either threat or opportunity, depending on the context (Maier et al., 2009). It is naturally designed to capture public attention and used worldwide in emergency signals because humans can distinguish it in unfavorable conditions. Red remind us of the critical significance of the decisions we are to take as society and to draw attention to the biggest challenge we've face as humanity: preserving the world we live in.