Nuestra parte de noche, Mariana Enriquez
I've been wanting to read this book for a while since I read La hermana menor, and I fell in love with both Silvina Ocampo and Mariana Enriquez. Her fourth novel Nuestra parte de noche —Our share of night— is dark, sharp, and somehow also tender. A book that one may think is a terror or fantastic story by its synopsis ends up being so much more than that, a ride-along Argentina and the context surrounding the character's story, the country's military dictatorship, the reality of rural life, religiousness, and politics. Mariana masters a mixture of genders and a complexity that left me only wanting to read more of her work.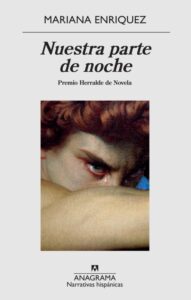 The footage of this documentary is striking and surreal, the story is as well. Katia and Maurice Krafft, scientists and lovers, died in a volcanic explosion doing the very thing that brought them together: unraveling the mysteries of volcanoes. Beautiful collages of encyclopedia illustrations are used to narrate some scenes, and the video and images recorded by them are just unbelievable.
Women at work, by Hey Studio

Lately, I've discovered Hey's podcast "Women at Work" and it's all I needed. Professional women talking about their jobs in creativity and design. A necessary dose of inspiration, motivation, and shared knowledge over common experiences and the challenges we face as a society.
Whack World, Tierra Whack
Whatever she does, I love. Having said that, her first album and my favorite is, I think, the best way to get to know her. It's an audiovisual project where every song is intertwined into a whole 15-minute performance. Just enjoy!